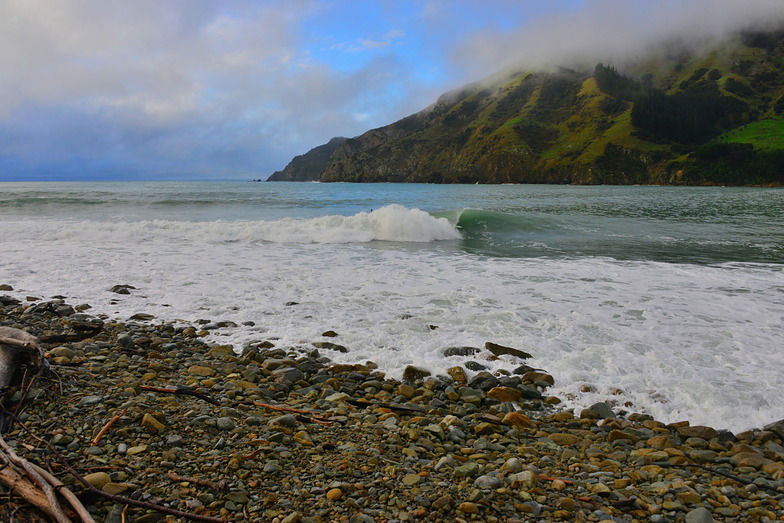 (above): Jeremy Pooley slotted at Cable Bay late Monday,.Photo: Dave Scranny
A big fat "wow". It seems the misery of our surf deprived 2014 and early 2015 has been completely quashed within the space of a couple of months with Cyclone Pam breaking the strangle-hold of flatness bestowed upon our surf town. Basically, ever since Pam we have had a nice run of swells with a swell late ANZAC weekend actually surpasssing the size of Pam with some amazing waves going down at all breaks.
(above): Ruby Bay, somebody get a bucket of water cos' this place is on fire.Photo: Mike Bakersville
Also going down over the weekend was Nelson Boardriders club day, a fun surf comp and get together in atrocious weather at tahunanui beach. The event ran smoothly with wildcard and current south island circuit champion Levi O Connor giving us all a lesson in good surfing taking out the open event. The longboards were taken out for the third year running, a hat-trick by Geoff Noble whilst the Juniors was taken out by Jimmy Wright and the Girls a clear cut winner with Rachel Clark a cut above the rest.
Awesome participation despite the inclement weather and a great after-party/presentation at TahunaStudios workshop. A giant thanks to all who helped out with extra special thanks to Boulder Bank Electrical, Hogeys Surf, TahunaStudios, Pit Stop and Nelson Packaging,
FULL RESULTS:
Open 1st Place - Levi O Connor 2nd Place - Jimmy Wright
3rd Place - Mark Nichols 4th Place - David Pons
Juniors: 1st Place - Jimmy Wright , 2nd Place- Colm Dubienic 3rd Place - Zac Dillon 4th Place - Ryan Ford
Longboard: 1st Place - Geoff Noble 2nd Place - Graham Clark 3rd Place - Ben Winmill 4th Place - Raefe Murray
Girls: 1st Place - Rachel Clark 2nd Place - Leen Van Edinburgh 3rd Place - Charlotte Soo Choon
4th Place - Maeghan Mc Isaac
Gremlins: 1st Place: Johhny Noble 2nd Place: Ashton Cooley/ Olivia Clark 3rd place: Louie Harvey
Injury List: Carlton Barton - fibreglass splinter between his teeth
Mark Nichols - perforated eardrum copping an 8fter on the head at heaving Glen,
Russel Bruce - Stitches in cheek from surfboard fin.
Please feel free to add yourself to this list,